Celebrating National Activity Professionals Week!
Meet our Activity Team
We are celebrating National Activity Professionals Week from January 23-January 27, 2023. We celebrated our Activity Department with Crumbl Cookies, because we would "crumbl" without them!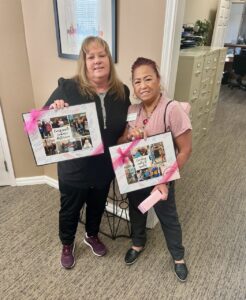 Mary Ann Capps, Director of Programming
Who is Mary Ann?
I am a native to San Antonio. I grew up on the south side of San Antonio. I played sports all the way through my school years. Five years after high school, I married my husband. We have been married for 32 years and have two children, a son and a daughter, who are each married. My husband and I have two dogs, Samson (a boy) and Skyler (a girl). I have had many working hats; in high school I managed a restaurant, then after graduation I was a secretary at the lab for cement plant. I was an Athletic Director for the junior high and high school, coaching several sports. I also ran the basketball camps. I then became a Certified Nurse Aide and received my activity certificate. When I am not at Esplanade Gardens, I enjoy traveling throughout the world, camping, and enjoying vacations. Most of all, we are a Christian family and love the Lord.
What sparked your desire to work in a senior living community?
I worked in the home health industry for many years and wanted to work in a community. I fell in love with the residents that live here.
What is your favorite activity to participate in with residents?
Wii Bowling
How do you decide which activities and programs to offer?
After reviewing resident profiles and meeting with residents, I learn what most residents are interested in. I schedule activities based upon the current season.
Teresa Santellano, Programming Coordinator
Who is Teresa?
I first moved to this country (US) back in 1987, and I did not know anything about the language and culture- talk about a culture shock. I am an animal lover and have two dogs and two cats. My favorite bands are The Doors ad The Beatles. I enjoy reading DIY books and magazines, and enjoy watching movies such as The Curious Case of Benjamin Button and The Notebook.
What sparked your desire to work in a senior living community?
It is a satisfying and rewarding working with seniors. I have learned many things about their accomplishments, legacies, and blessings, and I am more appreciative of my life's journey for having a different perception of growing older with more wisdom, knowledge, and understanding of life.
If you could have a superpower – which one would you choose and why?
A healing power, so I can heal every sick person of any kind of disease.
What is the best part of your workday?
When I make the residents happy and feel like I have made someone's day.
Want to join in on our fun? Schedule a visit today!